Augmented reality (AR) and 3D printing are two emerging visualization methods that are being increasingly used in intraoperative clinical settings.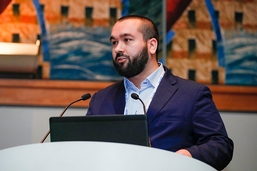 "In addition to standard medical imaging, surgeons often ask radiologists to provide 3D visualizations," said Jan Witowski, MD, a researcher at Jagiellonian University in Poland. "Although they usually favor standard volume rendering, augmented reality and 3D printing have been proven to add even more information, are easier to understand, and are more immersive."
Speaking at a Thursday session on 3D printing and AR in interventional cardiology, Dr. Witowski noted that cardiologists and cardiac surgeons are exploring how they can implement these immersive techniques into their practice.
"Early reports suggest that, in very specific scenarios, 3D printing and augmented reality can serve as very powerful cardiac tools," Mr. Witowski said. "But it is important to keep in mind that not everyone will benefit from them – and radiologists must know when and where we should consider them."
Potential in Clinical Setting
Dr. Witowski shared a number of real-life examples of cardiologists in Poland successfully using the technologies in a clinical setting. In one case, a 77-year-old patient with an abdominal aortic aneurysm was treated with endovascular repair. Using an AR head-mounted display, the aneurysm and bones were projected as 3D holograms in front of the angiography monitor and manually registered with fluoroscopy.
"This case shows that augmented reality with holographic rendering is feasible and helpful during endovascular aortic repair," Dr. Witowski said. "Specifically, routine use of the technology could lead to shorter operating times, reduced contrast volume and lower radiation dosage."
Another example demonstrated the feasibility of 3D printing and AR in planning transcatheter pulmonary interventions. Here, two patients were qualified for balloon pulmonary angioplasty, one for treatment of chronic thromboembolic pulmonary hypertension and the other for a stent implantation for pulmonary artery stenosis. CT images were processed with segmentation algorithms and subsequently submitted to 3D modelling software. Personalized, life-sized models of the same structures were also 3D printed for preoperative planning.
Furthermore, AR headsets were utilized to display surface and volume rendering of pulmonary vessels as holograms shown to physicians throughout the procedure and used as a guidance and navigation tool. During the procedure, the operative team was able to manipulate the hologram and multiple users could share the same image in real-time.
"The clinicians reported being satisfied with the quality of the imaging and were encouraged by the potential clinical benefits of using augmented reality and 3D printing," Dr. Witowski said. "Yet despite the potential value of augmented reality in pulmonary interventions as demonstrated here, prospective trials must be conducted to determine whether 3D visualizations affect perioperative treatment and outcomes."
Know When to Stick with Traditional Imaging
Dr. Witowski concluded by noting that augmented reality and 3D printing are two promising technologies that offer immersive visualization of medical data, with the biggest benefits being seen in intraoperative settings.
"However, not every clinical situation requires their use, and radiologists must know when it is best to stick to traditional imaging and visualization methods," he added.