The health care environment around us is changing rapidly, and the time is truly ripe for increased interaction between radiologists and patients, according to RSNA President, Valerie P. Jackson, MD.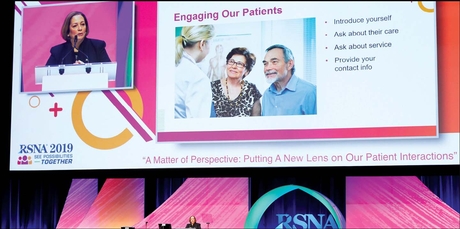 "We have both the opportunity and capacity to forge a new level of connection with our patients, and it will be a huge benefit to do so. But to get there, we need to look at patient interaction in new ways — from a variety of perspectives," she said during her President's Address in the Arie Crown Theater Sunday morning.
The importance and value of increased patient interaction were key points in a lecture centered on changing perspectives. Dr. Jackson shared her love of photography and some of her own photographs while encouraging radiologists to see patients through a new lens to better understand health care from the patient's point of view.
She called on her colleagues to step out of the secluded reading room noting that direct contact with radiologists is something patients desire and appreciate.
"For time-pressed radiologists, human connection reminds us of how critical our work is to real people and gets us back to our Hippocratic roots as physicians," Dr. Jackson said.
Dr. Jackson refuted concerns of physician burnout resulting from added patient contact noting that breast and interventional radiologists demonstrate an alternative view, reporting generally high degrees of work satisfaction and a better connection to their patients and teams.
Additionally, the increased drive toward value-based care has led to rigorous assessment of patient experiences with patient needs, expectations and satisfaction receiving more weight across specialties than ever before.
Dr. Jackson acknowledged challenges presented by high case volumes, practice-boundary issues, RVU-based compensation plans and the basic anxiety some radiologists may feel with patient interaction.
"Many of us are quite comfortable with the socialization that may occur in the reading room, but less comfortable with interaction with patients, families and the health care team," she said.
However, to become more comfortable with the uncomfortable, Dr. Jackson suggested following the example of photographers who change position and look at things from an unexpected angle or through a different lens.
"It takes courage to be willing, in the midst of the current environment in medicine, to make a conscious change in one's perspective and then to translate that perspective into new ways of working," she said.
Three Lenses, Three Different Perspectives
Using telephoto, macro and wide-angle lens examples, Dr. Jackson related them to perspectives of radiologists, patients and referring physicians. First, through a telephoto or zoom lens view, radiologists may look more closely at themselves and recognize the self-constructed barriers that constrain them.
Next from a macro lens perspective, the patient experience can be enlarged and explored in better detail.
Finally, using a wide-angle lens view, radiologists develop a broader perspective on patient care and develop better interaction with referring physicians.
"If we widen our perspective toward our colleagues, proactively building value-based relationships with them, the pathway to patient interaction will be attainable," she said.
Dr. Jackson encouraged audience members who have the opportunity to start simply and engage with just one patient in the waiting room. From there, all radiologists may open communication opportunities by leveraging tools like websites, social media and print materials and redesigning office and workflow processes.
Radiologists should also position themselves as partners to referring physicians and work toward a new, enhanced and more connected working relationship with them, according to Dr. Jackson.
In order to become advocates for expanding radiologists' role as a communication bridge to patients, she challenged the audience to demonstrate how an empowered radiologist, sharing results directly with patients, can decrease the possibility of information gaps or miscommunication and help accelerate the transmission of imaging results.
"We should remember that we are essentially gatekeepers of valuable information, and that information is significantly enhanced when we interpret and convey it directly via two-way exchange with patients," she said.