As radiology professionals convene for this annual meeting, RSNA R&E Foundation Chair Thomas M. Grist, MD, reminded the audience how far imaging has come in terms of innovation, and of the opportunity they have to ensure that innovation continues.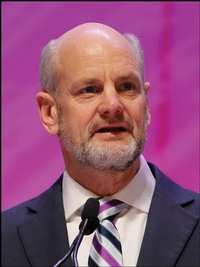 "The R&E Foundation provides an opportunity to invest in this innovation and strengthen our leadership position in medical imaging specifically and in the health care landscape overall," Dr. Grist said. In fact, he noted, in 2019 the Foundation funded 17 grants in the area of artificial intelligence and machine learning.
Dr. Grist stressed the particular importance of supporting new entrants to the field of radiology because they will provide fresh perspectives. The R&E Foundation, he said, serves as a conduit for all radiologists to provide that support.
By way of example, Dr. Grist talked about Peter Chang, MD, at the University of California in Irvine, who received a 2019 Research Scholar Grant. Dr. Chang's research into improving CT interpretation time for patients with suspected acute ischemic strokes using deep learning methods could provide a way to triage patients with the condition.
"Medical imaging also holds tremendous potential to improve patient care in the future," Dr. Grist said, "and we as a community bear a responsibility to sow the seeds of future innovation by supporting our Foundation."
He said the Foundation has measured a 50:1 return on investment for its donors. Every dollar spent by the Foundation yields an additional $50 in future grants from other sources, including the National Institutes of Health.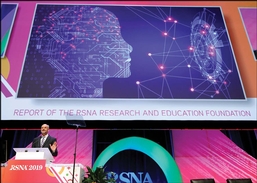 In addition, the Foundation continues to develop new grant solutions designed to meet today's needs. This year the Foundation awarded new Education Innovation and Development grants that were created to meet the need for innovation in radiology education. Dr. Grist recognized a team of collaborators at Massachusetts General Hospital who are developing a new online tool with funding from one of those grants. The Breast Imaging-Dynamic Educational Training Environment for Cancer Teaching (BI-DETECT) is a case-based set of learning modules, quizzes and instructional videos that will be available to all RSNA members as a breast cancer diagnosis and management teaching aid.
In an effort to reduce barriers to entry in our field, the Foundation will introduce a new Minority Medical Student Grant opportunity beginning in 2020. Up to 10 additional Research Medical Student grants will be available to underrepresented minorities. "These grants afford us a critical opportunity to find those bright innovators and inspire and guide their interest in radiologic science," Dr. Grist said.
Dr. Grist thanked practice groups, corporations and individuals who champion the mission of the Foundation through their donations. "We are stronger together, and together we can catalyze new discoveries and bolster young careers," he said.
Meeting attendees interested in learning more about the work of the R&E Foundation are invited to visit the R&E booth in the Connections Center.