Discussing smoking cessation with cancer patients with diagnoses beyond head, neck, and lung disease can be important for improving patient outcomes, according to the presenter of a Sunday session. But that often isn't happening.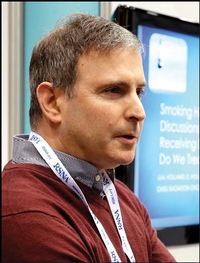 The importance of working with patients to quit smoking was the subject of a poster presentation "Smoking History and Cessation Discussions in Cancer Patients Receiving Definitive Radiotherapy: Do We Treat All Patients Equally?" by John M. Holland, MD, associate professor of radiation oncology at Oregon Health & Science University.
"It's very challenging for a patient to stop smoking, so there may be somewhat of a nihilistic approach among providers and we don't even address it with them anymore," Dr. Holland said. "But the research shows us it's so important for improving outcomes."
Dr. Holland referenced a 2018 article in JAMA Oncology, "Association of Smoking Status With Recurrence, Metastasis, and Mortality Among Patients With Localized Prostate Cancer Undergoing Prostatectomy or Radiotherapy," that got him thinking about how often health care providers at his institution are — or are not — talking to patients with different types of cancer about their experience with tobacco.
Dr. Holland and colleagues hypothesized that doctors do a better job discussing smoking cessation with patients suffering from cancers where tobacco is recognized as a causative agent such as head, neck, and lung cancers, but not for cancers of the prostate or breast, even though research shows smoking may impact these types of cancer as well.
"People don't think about breast and prostate cancer as much related to smoking, but it does matter," he said.
Providers Should Bring up Smoking
Dr. Holland and his team studied initial consultation notes from the electronic medical records (EMR) of 592 non-metastatic patients seen from January 2014 to June 2017 with inputs from attendings, residents, and nurses. Discussions regarding smoking cessation were documented with 55% of head, neck, and lung cancer patients, but only 14% of breast and prostate cancer patients. Smoking history was also less likely to be recorded in prostate cancer patients, than others, but even in patients where their smoking status was recorded, discussions about cessation often did not happen.
Some providers may not be as aware of the poor outcomes for breast and prostate cancer patients undergoing radiotherapy who smoke, while others may not think they will have success convincing patients to stop smoking, he said. Research shows that most smokers attempt to quit several times before they are successful.
Dr. Holland said it could also be a matter of provider bias, where a doctor doesn't think they will be successful in trying to get a patient to quit smoking, so they don't even ask.
"But, if you're hoping your patients don't smoke during treatment, you're not going to get anywhere unless you ask and have some kind of discussion regarding cessation," Dr. Holland said. "They may not be ready, and even if they are it is hard to stop, but we have to try."
In the future, Dr. Holland hopes to create a system to clearly tag the EMR of current smokers so that when a nurse, attending physician, or other health care provider pulls up their chart, it would signal providers to have a conversation about smoking cessation.
"Even with discussions, it's hard to get people to stop smoking, but I don't think it's reasonable to expect anyone to stop smoking if the health care team doesn't bring it up," Dr. Holland said. "We should do a better job."