Contrast-enhanced US (CEUS) has shown strong clinical value for classifying focal liver observations in patients at risk for hepatocellular cancer (HCC), according to preliminary results of a multicenter validation study.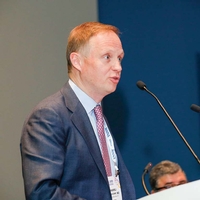 The ongoing study, presented Sunday by Andrej Lyshchik, MD, PhD, associate professor of radiology at Thomas Jefferson University Hospital (TJU) in Philadelphia, was conducted through 11 centers internationally and is the first prospective validation of the American College of Radiology's (ACR) Contrast-Enhanced Ultrasound Liver Imaging Reporting and Data System (CEUS LI-RADS).
First presented internationally in 2016, CEUS LI-RADS is described by the ACR as a comprehensive system for standardizing the acquisition, interpretation, reporting and data collection of CEUS examination for evaluating focal liver lesions detected in patients at high risk for HCC.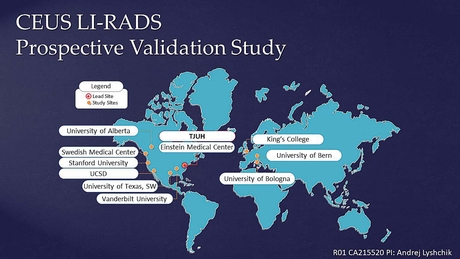 The CEUS LI-RADS standards were created according to CEUS image acquisition methods and related contrast agent properties and are similar to those set for CT and MRI.
Dr. Lyshchik cited challenges in using CEUS for liver imaging including a lack of protocol standardization, poorly defined diagnostic features of malignancy, an overlap in traditional diagnostic criteria between HCC, intrahepatic cholangiocarcinoma (ICC) and liver metastasis, as well as substantial reporting variability and a lack of CEUS integration.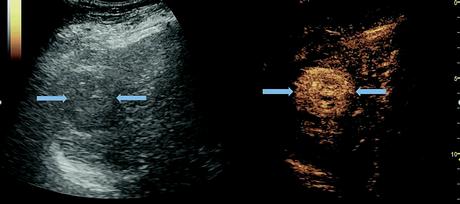 Under LI-RADS protocol, focal liver observations are classified as LR-5 (definitely) HCC if they are greater than 1 centimeter with arterial phase hyperenhancement and late, mild washout. By comparison, observations with rim enhancement and/or early washout and/or marked washout qualify as LR-M, malignant but not specific for HCC.
Dr. Lyshchik and other members of the working group responsible for ongoing development and validation of LI-RADS, examined a total of 439 nodules from a population of 402 patients at risk for HCC.
Using CEUS performed within four weeks of CT/MRI, they confirmed diagnosis for 335 nodules while 104 of them remained indeterminate and were set to undergo additional examination.
"Definite diagnosis on MRI, imaging follow-up or composite tissue histology for MRI-indeterminate observations were used as a reference standard," he said.
Of the 335 nodules, 231 were proven to be HCC while only 13 were other malignancies, 46 were indeterminate and 45 were benign.
According to the study results, the specificity of CEUS LR-5 for HCC was nearly 98%. The sensitivity of CEUS LR-5 for HCC was almost 60%, a circumstance that Dr. Lyshchik said is unfortunate, but similar to CT and MRI.
"This was partially a deliberate choice to make the criteria as specific as possible, so the patients with positive diagnosis can proceed straight to treatment," he said.
Validation of CEUS LI-RADS is an ongoing effort. Dr. Lyshchik said, "Similar to CT and MRI, lots more needs to be done to fully understand the performance of our approach in different patient populations."
Looking ahead, the LI-RADS working group will concentrate on increasing diagnostic sensitivity. "Unfortunately, we feel we are hitting the limits of an imaging-only approach for disease diagnosis and our next endeavors will include multimodality assessment with potential addition of AI and machine learning."