Because shorter delays between breast cancer diagnosis and surgery often lead to higher rates of overall and disease-free survival, a multidisciplinary team approach is necessary to optimize breast care delivery to patients.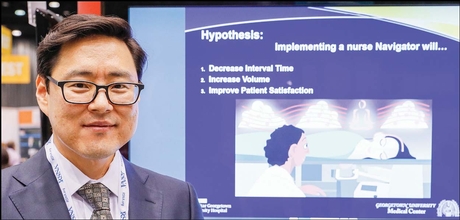 At Georgetown University Hospital's Division of Breast Imaging, this team includes a Radiology Nurse Navigator, a new role that, according to Jae Sung, MD, a radiologist at Georgetown, has proven highly effective.
"As part of our ongoing effort to improve the timeliness of breast care and improve patient satisfaction, in 2017 we introduced a Radiology Nurse Navigator to coordinate our biopsy program and facilitate multidisciplinary care," Dr. Sung said.
Prior to this, breast biopsies were scheduled by the Breast Center Manager, a working technologist with multiple clinical and administrative responsibilities.
Speaking at a Sunday session, Dr. Sung explained that a Radiology Nurse Navigator's role is to help patients obtain timely cancer screening, diagnosis and treatment; to optimize patient care; and improve patient outcomes. "They serve as a facilitator for patients from their entry into the breast care system when biopsy is recommended and throughout their course of care," he said.
This role includes any advanced imaging, additional biopsies, and initial breast surgery and oncology appointments. Specific responsibilities include scheduling biopsies, obtaining referrals, assisting in pre- and post-biopsy care and coordinating patient appointments.
"Without a Nurse Navigator, patients with abnormal diagnostic imaging leading to a biopsy recommendation left the center without a biopsy being scheduled," Dr. Sung said. "Now, patients recommended for biopsy leave their initial diagnostic visit with a biopsy appointment, rather than waiting to schedule over the telephone."
The time between diagnostic imaging and core needle biopsy is a quality metric measured by the National Accreditation Program for Breast Centers.
According to the Institutional Review Board (IRB)-approved retrospective study of imaging-guided breast biopsy cases identified before and after the introduction of the Nurse Navigator, this change has increased timeliness of care (decreased time to biopsy), patient satisfaction and volume of cases.
For example, prior to instituting the Nurse Navigator position, 316 patients who underwent 321 procedures experienced an average interval time from imaging to biopsy for MRIs of 14.7 days, 17.1 days for stereotactic biopsies, and 11.1 days for ultrasound (US) biopsies. Post-Nurse Navigator, 370 patients underwent 383 procedures and experienced a decrease in interval time from imaging to biopsy of 7% for MRIs (13.6 days), 44% for stereotactic biopsies (9.5 days) and 41% for US biopsies (6.6 days).
"Hiring a Nurse Navigator with clearly defined roles will improve such efficiencies as scheduling and communicating between radiology, oncology, surgery and insurance," Dr. Sung said. "It will also improve quality of care, volume of cases and patient satisfaction."