The spectrum of research — from efficacy and effectiveness research to implementation studies — is enhanced through patient engagement, according to a presentation delivered Sunday at RSNA 2019.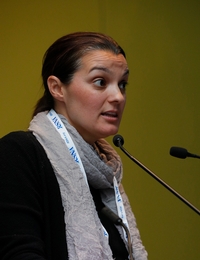 "Scientific discoveries are best translated into improvements in individual and population health when community members are involved at all stages of research," said Lucy B. Spalluto, MD, MPH, associate professor and director of Women in Radiology, Department of Radiology and Radiological Sciences, Vanderbilt University Medical Center.
These stages of research include efficacy and effectiveness studies (including comparative effectiveness research), as well as implementation studies. In her presentation, Dr. Spalluto used the National Lung Screening Trial (NLST) as an example of an efficacy trial, in which the intervention — in this case low dose CT screening — was tested in a tightly controlled environment and was found to achieve a 20% reduction in lung cancer mortality. 
"So, if we know that the intervention works in a tightly controlled environment, can we show that it actually works in the real world, when we are out of that tightly controlled environment?" Dr. Spalluto said. She pointed out that Ilana Gareen, PhD, MPH, of Brown University is working on such an effectiveness study by comparing the efficacy of lung screening in actual community practice with the results reported in the NLST.
A specific type of effectiveness study — comparative effectiveness research (CER) — directly compares benefits and harms of different health care interventions. Such a study "fills in knowledge gaps," Dr. Spalluto said, and helps clinicians make every day medical decisions.
Patient Input is Key to Research
An example of this was a study led by Christoph Lee, MD, University of Washington School of Medicine, published in Radiology, that compared the effectiveness of screening women with dense breast tissue with a combination of digital mammography and tomosynthesis versus digital mammography alone. This study asked, and answered, questions comparing the number of cancers detected between the two alternatives, how many tests required follow-up, how much each cost, and how much radiation patients were exposed to.
"And the key here is that you are making comparisons between tests or treatments, including all reasonable alternatives that a provider might offer to patients," Dr. Spalluto said. However, these kinds of studies as they relate to radiology present a number of challenges.
For example, evaluating radiology in a vacuum is a complex proposition, since imaging is often an intermediary step in influencing patient outcomes and imaging techniques can change rapidly, she explained. In addition, investigators must figure out what outcomes matter to patients, and will need to report on less traditional measures, such as patient centered outcomes, patient reported outcomes, long-term clinical outcomes, and downstream diagnostic processes.
Finally, while studies can look at the efficacy and effectiveness of interventions, implementation studies can help promote uptake of these interventions into routine, sustained practice.
This research will be enhanced through continuous patient engagement, which is "bi-directional," Dr. Spalluto said. "It will involve patients and their families or representatives in active partnerships throughout the research spectrum, so that we not only give them information, but they give us back information as well."
She pointed out there are many opportunities for patient engagement in trials, all the way from concept development, to study accrual and retention, to the analysis and dissemination of results.  And engagement will also be encouraged working with community partners and stakeholders.
"Through this whole process, patient engagement will make research more meaningful," Dr. Spalluto said. "It does so by improving enrollment in trials, decreasing attrition, and improving outcome measures. Through this we can improve quality and safety, control health care costs, get better health outcomes and more meaningful outcomes."