Leveraging Data to Deliver Big Changes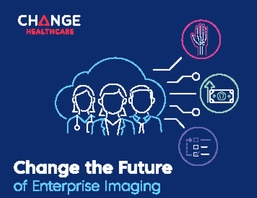 Today's health care providers understand that becoming data-driven is an imperative to continued success. By leveraging data correctly, providers can help improve clinical outcomes while reducing cost and complexity.
Data scientists are looking at both the challenges created and opportunities offered by data analytics. Scott Burk, PhD, is a data scientist and advanced analytics architect for TIBCO Software. Stephen Harrold is an enterprise imaging senior solutions manager with Change Healthcare.
Question: Can you name the most significant challenge in health care today?
Scott Burk (SB): Obviously, you can't run your day-to-day business without your existing applications. But is it sufficient? No, you have to innovate everywhere; you have to be future forward. With things changing fast and with all these forces and the moves, shifts and consolidations on the landscape, analytics is just going to be vital to existence. It is exponential. It has been rising and increases every year.
Q: How does an enterprise analytical solution help extract new value and insights from existing applications?
Stephen Harrold (SH): Many providers struggle with analytics tools that only have access to a very narrow scope of the care cycle. In the world of large integrated delivery networks (IDNs) and health care transformation, we need to leverage data as an asset. This requires analytics solutions that can span across the enterprise and across various sources of data. This can't be limited to PACS or even radiology data, but should also include financial data, workflow data, decision support and outcomes data.
SB: Analytics is there for everything from strategic planning to expansion and operational cost reduction, all the way through supporting the positions in what we call "augmented intelligence." This approach focuses on how computers, machine learning and analytics can supplement what a provider or a physician has been doing for decades.
Q: What do you see regarding the future of data analytics?
SB: Data virtualization started a few years ago and we're seeing it really grow. When you think of all the disparate sources of data — including data warehouses, big data, cloud data, social media, weather data, you name it — data virtualization is allowing the developers to move all data to this logic layer, which will ultimately benefit the analytics consumers.
SH: We see broader adoption of analytics to assist in management of the business and operational aspects of health care, but we know that data can be leveraged to improve the day to day of the providers by improving their workflow and improve the care coordination teams.
Q: How will cloud-based solutions impact analytics?
SB: Data is a key asset, but it's difficult and expensive to realize the full benefits with on-premise solutions. Health care provider CIOs increasingly tell us they want to get out of the IT infrastructure business. We enable that.
SH: The questions are being posed: how can cloud technology improve our balance sheet, help breakdown the IT complexities, and ultimately improve patient care? We have seen increased focus on Enterprise Imaging strategy — we know that each IDN is unique in their journey and cloud-based technology is a the heart of the discussion.
Q: How can analytics be leveraged to assist with value-based transformation?
SB: Wow, you name it. It is about doing more with less. That is what analytics does. It is about efficiently and effectively using all your resources. Value-based care is that — how can we evolve into more effectively using our resources.
SH: Analytics is crucial to value-based transformation. By bringing together workflow, imaging, electronic health records, cost and decision data, we can identify opportunities to serve populations better. For example, we can measure the impact that point-of-care programs have on improving costs and outcomes or analyze where to best place your next outpatient facility.