A radiation delivery method that detects ongoing changes in tumors and patient physiology is poised to bring even more precision to cancer treatment, according to a leading authority who delivered the Annual Oration in Radiation Oncology Wednesday.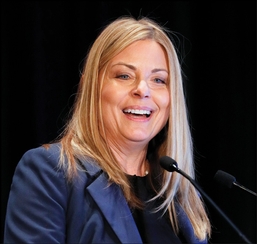 The traditional approach to radiation therapy planning involves acquiring CT images at the time of the treatment simulation. While very accurate, this method doesn't account for changes that occur with the patient and tumor during or in-between treatments.
"The treatment is static, but the patient and tumor are not," said Lisa A. Kachnic, MD, chair of Radiation Oncology at Columbia University in New York City. "The tumor can shrink or grow, and the patient's physiology can change. If you choose to re-plan treatment, then you have to go through the whole process again, which can involve hours of work."
Over the past decade, Online Adaptive Radiation Therapy (OART) has emerged as a promising option for treatment planning that accounts for motion and changes in the patient like weight loss, tumor response, shifts in the nearby organs, along with alterations in clinical goals such as dose increase.
"Adaptive radiation therapy is an imaging feedback strategy to improve our treatment plan in response to variations that we see during the therapy process relative to that initial CT simulation," Dr. Kachnic said. "The overarching goal is to improve tumor control and decrease toxicity."
During her lecture, "Online Adaptive Radiation Therapy (OART): The True Intersection of Diagnostic Radiology and Radiation Oncology," Dr. Kachnic demonstrated how adaptive therapy is already here in the form of on-board cone or fan beam CT and MRI acquisition systems paired with linacs — medical linear accelerators used for external radiation treatments — that guide and verify pre-treatment patient positioning.
Today's adaptive methods include a fixed interval approach in which a second CT simulation is performed a few weeks after the first and a triggered method that encompasses an initial CT simulation and a weekly cone-beam CT.
MRI-guided treatments rely on an initial CT simulation and follow-up MRI for new dose calculations and get a truer dose accumulation.
Dr. Kachnic presented results from prostate cancer treatment studies to show the potential value of these adaptive approaches. Radiation dose escalation has been shown to improve the grim survival outlook for prostate cancer patients, but the higher dose can damage surrounding organs.
Ongoing research using adaptive doses on prostate cancer patients shows the promise of the technology. Patients in the study saw a statistically significant improvement in two-year survival, with no Grade 3 or higher toxicity.
"This is where the beauty of these daily adaptive treatments lies," Dr. Kachnic said.
A Turning Point in Radiation Oncology
Dr. Kachnic underscored that while current systems represent an improvement over older approaches, they still have limitations.
"The MRI linacs currently in use are expensive and resource-intensive and can add up to an hour to a one- to two-minute treatment," Dr. Kachnic said. "Patients often need an entirely new CT-based planning session."
Future methods that deploy artificial intelligence will likely provide more advanced image guidance, allowing radiation oncologists to combine clinical patient and tumor data with imaging for adaptive decision-making. This synthesis of data would allow them to adjust radiation doses and/or distributions to the target and to the surrounding at-risk organs.
"Machine learning can account for the movement of tumors and normal tissue on a daily basis," Dr. Kachnic said. "Replanning treatment would take only about 15 minutes."
Additional developments will include the integration of functional information into radiation therapy. To that end, Dr. Kachnic said, a PET-linac machine is currently in development. Biologically-adapted radiation therapy also holds potential.
"I truly believe that we're at a turning point in radiation oncology," Dr. Kachnic said. "Our techniques have been refined to really allow accurate delivery, and now we're looking to the insight from molecular biology and genetics to further refine targeting."