Over the past 15 years, a shift in imaging practices from CT to US in pediatric appendicitis cases reflects an emphasis on radiation exposure reduction and has translated to a value improvement over time in the outcomes/cost equation.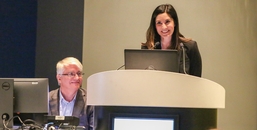 Results of a retrospective analysis of data from the Pediatric Health Information System (PHIS) show that initially, the change in modalities did not deliver benefits of cost reduction or efficiency, noted Shireen Hayatghaibi, MA, MPH, of Texas Children's Hospital in Houston during a Wednesday session.
Hayatghaibi and colleagues examined data from 76,710 pediatric patients undergoing more than 105,000 imaging procedures performed between 2004 and 2018 at 30 different hospitals across the U.S.
"We wanted to identify the dominant imaging strategies for diagnosing appendicitis nationally and how they have changed over time, especially with the Image Gently® campaign in place," she said.
The team looked at patient demographics, imaging related to diagnosis of appendicitis including CT, US, MRI and radiography, and the charges associated with imaging.
Ultrasound Use Gains Popularity in Diagnosis
Hayatghaibi said that from 2004 to 2008, the number of imaging exams performed on the patient increased, as did the cost. However, since 2008, those costs have decreased. In the study, US was the dominant diagnostic imaging strategy after 2011.
From 2004 to 2018, she said CT utilization decreased from approximately 42% to 19% and US use increased from almost 26% to 62.5%.
Use of radiography was cut by half dropping from 32% to just over 16%. MRI utilization increased but remained low at only 2.2%.
Of the imaging modalities most commonly used in appendicitis diagnosis, US was demonstrated as least costly in the study's charge data. Despite the lower price tag for US imaging, Hayatghaibi said an increased mean number of imaging exams per patient very likely contributed to initial cost increases.
The mean number of imaging exams per patient by modality was 1.02 for patients with CT, 1.29 for those with US, and 2.09 for patients with MRI as part of their encounter.
"Although we were unable to gather clinical data with the PHIS database, we assume that US use resulted in more equivocal exams or that more corroboration of US findings was needed thereby increasing the median number of imaging exams," Hayatghaibi said.
She added that despite the shift in imaging strategies, the team did not see a spike in negative appendectomy rates and diagnostic accuracy rates for appendicitis were excellent.
She suggested technician training might have an impact on the number of exams needed to confirm diagnosis. "There is an equity factor that we have not addressed — not all institutions have experienced and trained sonographers who can perform a high-quality, diagnostic ultrasound of the appendix."
Hayatghaibi said she and her team are studying the impact of the US technologist and radiologist on other factors such as appendix visualization, use of CT and key clinical outcomes including hospital admission, need for surgery and surgical complications.