Elizabeth Kagan Arleo, MD, kicked off a panel discussion held in conjunction with the American Association for Women Radiologists (AAWR) Wednesday morning by boldly stating that now is the time for 12 weeks of paid family/parental leave in private radiology practice.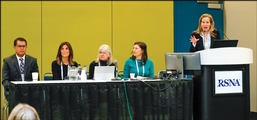 "Providing paid family/parental leave is not only the right thing to do, it will help promote well-being, prevent burnout and contribute to patient safety," said Dr. Arleo, associate professor of radiology at Weill Cornell Medicine, NY, and AAWR president.
Joining Dr. Arleo on stage to discuss the challenges, strategies and business case for private radiology practices offering the benefit were panelists Annie Sartor, campaigns director at Paid Leave for the United States (PL+US), Catherine Everett, MD, MBA, managing partner physician at Coastal Radiology, Nina Kottler, MD, VP of Clinical Operations at Radiology Partners, and Kamran Ali, MD, Wichita Radiological Group.
"The U.S. is the only country in the world that doesn't guarantee paid maternity leave," said Sartor. With no federal paid leave policy expected in the near future, she said, "it's up to individual workplaces to lead the way on this issue."
Sartor said there's a strong business case to be made for offering paid family/parental leave. Not only is it the number one benefit employees desire, according to Sartor, it positively impacts recruitment efforts, employee retention, productivity and morale. Nonetheless barriers exist.
"Coming from a small practice, extended leave can be an extreme hardship," said Dr. Everett. Other factors that affect a radiology practice's ability to offer the benefit include the non-flexible workload and the need for subspecialty coverage.
"With women representing just 25% of all radiologists, there are also cultural issues at play," she said.
Dr. Kottler surveyed Radiology Partners, one of the largest physician-led and physician-owned radiology practices in the country on the topic of paid family/parental leave. Of the 20 responding groups, just 30% offer the benefit, and none include paternal leave.
Wichita Radiology Group is the first and only private practice in the U.S. known to offer 12 weeks of paid family/parental leave.
"Twenty percent of our group is female and I also had my own personal experiences," said Dr. Ali, head of the group and clinical associate professor at KU School of Medicine. "When my children were born, there was a stigma around leaving early to be with my wife and child and pressure not to look weak or to rock the boat."
After doing some research, he determined that a paid 12-week family/parental leave aligned with the practice's mission.
"I was pleasantly surprised at how supportive the shareholders were in discussing the merits of such a policy," he said. "When you are willing to have the conversation, things can happen."
In the robust discussion that followed, audience members emphasized the importance of including all genders and generations in paid leave policies and for incorporating self-care and elder care into use of the benefit.
The AAWR compiled a list of resources to assist in implementing paid family/parental leave, which are available by emailing shige@acr.org.
Do you feel childcare services should be offered at radiology meetings? (or in the workplace?) #RSNA19

— RSNA (@RSNA) December 4, 2019