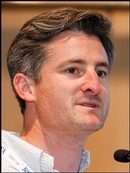 Minimally invasive spinal surgery (MISS), which aims to minimize tissue trauma and reduce post-operative recovery time, is a cost-effective method for improving patient outcomes. A key component to MISS is ensuring that a device is accurately placed.
Traditionally, such percutaneous image-guided interventions have been done via 2D fluoroscopic imaging or more recently, using 3D imaging-guidance with conebeam CT (CBCT) and integrated navigational software. Because both methods offer limited effectiveness, researchers have been testing alternatives.
"The past two decades have seen substantial growth in percutaneous image-guided interventions," said Pierre Auloge, MD, a radiologist at the University Hospital of Strasbourg, France, during a Wednesday session. "In recent years, the development of new technologies like augmented reality (AR) and artificial intelligence (AI) are making it possible to imagine ever-more efficient guidance tools."
Increasing Safety, Reducing Radiation Dose
AR is a navigational technique that superimposes virtual 3D anatomic data onto real-world 2D visual images in real-time.
"Augmented reality makes it possible to enrich reality with virtual images," Dr. Auloge said. "This facilitates the practitioner's work by standardizing percutaneous approaches to the spine and thus increases patient safety and reduces radiation dose."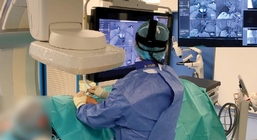 Integrating AI software into an AR-based guidance system further enables automatic landmark recognition, the generation of safe/accurate needle trajectories, and motion compensation using fiducial markers linked by a computer algorithm.
"Essentially, the system is a classical C-arm but with four cameras integrated in the flat panel, which film the operative scene," Dr. Auloge said.
After a volumetric acquisition, the system automatically performs the segmentation of the vertebrae and colors the pedicle. The operator then clicks on the pedicle where he or she wants to insert the trocar, and the software automatically proposes a trajectory.
"The four cameras show the trajectory with different projections on the monitor – not a headset," Dr. Auloge said. "This means the operator can adjust the trajectory of their needle with the virtual trajectory and can advance the needle without radiation."
A New Era in Imaging Guidance
Dr. Auloge shared the results of a recent study that tested an AR- and AI-based guidance system for vertebroplasty. The retrospective study of 100 patients compared the classic fluoroscopic approach with the new AR/AI guidance system. "The goal was to evaluate the system for safety, accuracy, reproducibility and dose reduction," Dr. Auloge said.
According to Dr. Auloge, the results are very promising. The AR and AI percutaneous vertebroplasties showed high precision, excellent safety and a reduction in the radiation dose for both the patient and the operator. Furthermore, after a short learning curve, the AR/AI procedure time is close to that of fluoroscopic-guided interventions.
"New technologies are bringing imaging guidance into a new era, with AR and AI promising to make interventions safer, faster and better," Dr. Auloge said. "But getting the most out of these technological advances requires the full involvement of radiologists."