The knee is one of the joints most commonly affected by osteoarthritis, and the pain associated with it is considerable and it can become disabling.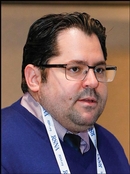 But, according to a study presented Wednesday, image-guided radiofrequency ablation (RFA), when applied to the knee, can significantly reduce knee pain and symptoms associated with osteoarthritis.
In fact, according to Felix Gonzalez, MD, who presented the study, more than 87% of the patients who participated in the study reported "significant pain relief" of at least 50%, with most patients having more than 75% pain reduction.
"Once you've treated that pain, patients become more mobile, the swelling decreases, and they are able to engage in more physical activity," said Dr. Gonzalez, assistant professor of radiology and imaging sciences, Emory University School of Medicine in Atlanta.
Cool RFA Provides Solution for Complex Anatomy
While conventional radiofrequency ablation has been used for decades to treat pain in areas like the lower back, it has been less successful as a treatment for the knee, because of the complex position of the nerves and other structures in that joint.
However, the "cooled" version (in which water circulates through the probe connected to the radiofrequency generator) has made RFA more feasible for knee arthritis. According to Dr. Gonzalez, conventional RFA covers a very narrow treatment area, while the cooled version can cover an area five times larger.
Why is that important for the knee?
"Sensory nerves exist in a specific location along the knee," he said. "So the reason we need a larger treatment zone is that those nerves don't travel through the same space in everyone. A nerve may travel a little more securely and higher in one patient, and in someone else it may travel a little lower. By having a bigger treatment zone you can account for the variability that exists between each person with regard to the nerve anatomy."
"For traditional ablation therapy, you need to know exactly where the nerve is in the structure you are treating, and the probe has to be just adjacent to it," Dr. Gonzalez added. "But there is variability in the patients we are treating, so having a larger treatment zone allows the RFA therapy to be more effective in treating the pain."
Dr. Gonzalez noted that while traditionally genicular nerve ablation targets three nerves (inferomedial, superolateral and superomedial), in this study he and his colleagues targeted four nerves, with the addition of the suprapatellar nerve.
The procedure is actually a two-step process, Dr. Gonzalez said, with study patients undergoing anesthetic blocks at each of the four anatomic sites. If the patients experienced short-term pain relief in those nerve branches, RFA was performed one to two weeks after the nerve block.
A total of 50 patients (77 knees among them) were treated. These were adult patients older than 45 years, with pain from moderate to severe osteoarthritis refractory to anti-inflammatory analgesia, and who had failed to respond to multiple intraarticular lidocaine-steroid injections.
Of those 77 cases, 82% showed improvement at a follow-up of two weeks, 82% at one month, 79% at three months, and 81% at six months.
Dr. Gonzalez and his colleagues also found that overall symptoms, stiffness, pain, and functional daily living — as evaluated using the Western Ontario and McMaster Universities Osteoarthritis Index (WOMAC) and Knee Injury and Osteoarthritis Outcome Score (KOOS) — significantly improved.
"Cooled RFA of the genicular nerve proves a safe way to treat knee arthritis pain," Dr. Gonzalez concluded.