Of the myriad challenges that face cancer patients, the financial burden of the disease is often overlooked, said presenter Deema Elchoufi, BS. On Wednesday afternoon, she reported how the direct and indirect costs of cancer care can put both patients and caregivers at risk for financial toxicity.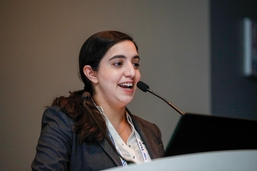 "Financial toxicity results when out-of-pocket medical expenses rise and income decreases due to the inability to work, which can lead to medical debt or personal bankruptcy," Elchoufi said. "When patients deal with conditions that arise out of financial toxicity, such as medical debt and bankruptcy, their coping behaviors may result in delayed or missed doctor visits and unfilled prescriptions."
To assess health-related financial toxicity in cancer patients and their caregivers and its effect on care adherence, Elchoufi and a team of researchers at Emory University recruited dyads of adult cancer patients and their adult caregivers from outpatient oncology clinics between December 2018 and September 2019.
Of the 590 cancer patients recruited, 503 were eligible and 100 consented. The mean age of patients and caregivers was 60 and 56 respectively. Of the patients, 63% were female, as were 52% of caregivers. More than 70% of subjects were white; with median income for both groups at $60-100K. The majority of patients were unemployed, disabled or retired, while half of the caregiver group worked either part- or full-time. Patients were nearly evenly split between Medicare/Medicaid and private insurance (48% and 40% respectively). Of the caregivers 53% were partners, 26% were parents and 14% were children.
At the beginning of the study, the researchers used 11 instruments to assess financial self-efficacy, disease burden, financial coping mechanisms, treatment adherence and quality of life in patients and caregivers. To measure financial toxicity, subjects completed the Comprehensive Score for Financial Toxicity (COST) survey. COST scores range between 0 and 44; the lower the score, the greater the financial toxicity.
Patients, Caregivers Both Suffer Financial Toxicity
Patients and caregivers in the study group reported similar levels of financial toxicity, with mean scores of 22 and 23 respectively.
"Even at relatively high income levels, these patients and caregivers were experiencing mild financial toxicity," Elchoufi said.
The most common way patients and caregivers coped financially was by withdrawing funds from a savings account. Credit cards were used by both patients and caregivers.
In addition to cutting back on leisure activities and food or clothing, patients also reported not always adhering to care guidelines. For example, 15% of patients said they delayed, partially filled or didn't fill a prescription. Another 6% took less medication than recommended by their physician and 3% declined an imaging test.
Multivariable analyses of all variables showed that patients with high financial self-efficacy, or confidence in their ability to manage their personal finances, correlated with lower financial toxicity. Compared to other types of caregivers in the group, partners experienced lower financial toxicity.
"Our results showed that caregivers with worse financial toxicity had a lower quality of life and so did the patients in their care," Elchoufi said. "The degree of caregiver financial burden also influenced patient care non-adherence."
In the care-adherence patient group, the mean COST score of caregivers was 25 (mild impact). Caregivers of non-adherent patients had a mean COST score of 18 (moderate impact).
"Cancer care affects the patient-caregiver dyad as a whole," Elchoufi said. "By caring for the caregiver, we can improve patient outcomes and care-adherence."