The two primary ways to treat unruptured cerebral aneurysm (UA) – coiling or clipping – have different risk levels for retreatment and readmission, according to a new analysis presented on Wednesday.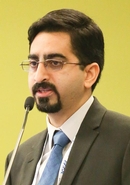 Pedram Golnari, MD, of the Feinberg School of Medicine at Northwestern University presented, "Readmission and Retreatment after Elective Treatment of Unruptured Cerebral Aneurysm: A Nationwide Readmission Database Analysis."
The study's co-author Pouya Nazari, MD, also of Northwestern University, was honored with the RSNA's 2019 Kou York Chynn Neuroradiology Research Award.
Dr. Golnari said about 30,000 people in the United States suffer from subarachnoid hemorrhage each year due to a ruptured cerebral aneurysm, a condition which can be fatal in 50% of cases. An unknown number of people have an unruptured aneurysm, but finding and treating those patients can save lives.
"Detecting unruptured aneurysms can be critical," Dr. Golnari said.
Once a UA is identified, physicians and patients can decide between microvascular clipping, an invasive surgical procedure that requires a craniotomy, or platinum coil embolization, which is less invasive and involves placement of coils via a catheter threaded through the body to the brain. The coils are used to fill the aneurysm and close off vascular flow, and therefore decrease the risk of rupture.
"There have been studies and controversies over which one is a better modality for treatment, but we didn't have a clear understanding of how each method relates to readmission and retreatment rates," Dr. Golnari said.
Study Comprises 2,000 Hospitals
Dr. Golnari and his team used data from the Nationwide Readmission Database — which contains information from 2,000 hospitals across 27 states — to find a cohort of 61,894 patients who underwent elective coiling or surgical clipping of UAs between 2010 and 2015 and were treated and discharged. Among all of the patients, 5.98% were readmitted within 30 days, and 8.99% were readmitted to the hospital within 90 days.
Patients who underwent coiling had a lower readmission rate than those who underwent clipping (4.87% vs. 8.68%) at 30 days, as well as 90 days (7.82% vs. 11.87%). The most common diagnosis for readmission was ischemic or hemorrhagic stroke. Patients whose UAs were clipped had higher rates of infection and seizure as causes for readmission compared to those whose aneurysms were treated with the less-invasive coil method.
Overall, retreatment rates are much lower than readmission rates, according to the data, with 0.14% being retreated after 30 days and 0.33% after 90 days. However, patients who underwent coiling had a higher incidence of needing retreatment compared to those who had their UA clipped at both 30 days (0.18% vs. 0.04%) and 90 days (0.37% vs. 0.22%).
"Clipping is much more aggressive, so it can result in higher readmissions, but it is also a more permanent way of resolving the aneurysm, so it can result in lower retreatment rates than coiling," Dr. Golnari said.
The takeaway, that patients undergoing clipping of UA have higher readmission rates, but lower retreatment rates, can be used by patients and their physicians in deciding on a treatment method, Dr. Golnari said.
He said he hopes others can use this research to study the causes of readmission and work to identify and reduce risk factors for those patients.
Over the five years analyzed for the study, Dr. Golnari saw a decline in readmission rates for UA patients but not to a statistically significant degree. He said that was surprising because during this time period the Affordable Care Act was passed, which included a Hospital Readmissions Reduction Program and penalties for hospitals with high readmission rates.
"We still need to make more efforts to reduce readmission rates," Dr. Golnari said. "There's more that needs to be done."