The RSNA R&E Foundation named Bonnie N. Joe, MD, PhD, to the Foundation's Board of Trustees beginning in 2020.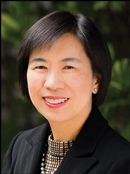 Dr. Joe is a professor in residence and chief of breast imaging in the Department of Radiology and Biomedical Imaging at the University of California, San Francisco (UCSF). She earned a PhD in electrical and computer engineering/biomedical engineering from Carnegie Mellon University and completed her medical degree at the University of Pittsburgh.
A member of the UCSF Executive Research Council, Dr. Joe leads efforts to advance imaging-based approaches to breast cancer diagnosis, earlier detection, and reduction of disease recurrence and improved survival. Her expertise includes all aspects of breast imaging, including breast MRI. She has served as principal investigator and co-investigator for several grant projects and published over 100 articles related to her research.
Dr. Joe received the Siemens Medical Solutions/RSNA Research Fellow Grant in 2002 and the Bayer HealthCare Pharmaceuticals/RSNA Research Scholar Grant in 2005, and she currently serves as chair of the Foundation's Radiology Research Trainee Grant Study Section.
The Board of Trustees direct the work of the R&E Foundation, which provides a critical source of support for investigators seeking to improve patient care through radiologic research and education. Since it began in 1984, the Foundation has awarded over $60 million to fund more than 1,450 grant projects.
The Foundation is led by Thomas M. Grist, MD, chair, and Vijay M. Rao, MD, vice chair. Trustees include Ronald L. Arenson, MD, Stamatia V. Destounis, MD, Michael J. Harsh, Brian S. Kuszyk, MD, Umar Mahmood, MD, PhD, Carolyn C. Meltzer, MD, Reginald F. Munden, MD, DMD, Satoshi Minoshima, MD, PhD, and Mitchell D. Schnall, MD, PhD.