A mobile application that easily enables patients to access their imaging and laboratory results is readily accepted by patients and enables them to better engage with their own health care, according to a study presented Monday.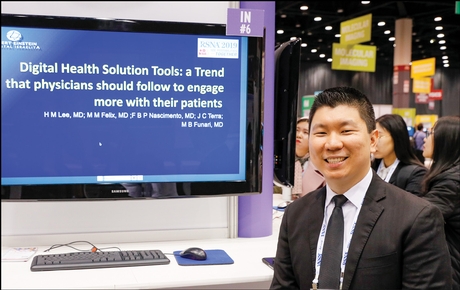 At the same time, however, the researchers found that physicians are less eager to interact with the technology, said Henrique M. Lee, MD, Hospital Israelita Albert Einstein, São Paulo, Brazil.
According to Dr. Lee, the application was developed by the hospital's innovation group in 2016, which provided physicians an opportunity to analyze patient data as it related to health care informatics.
"The main goal of the project was to describe in a more analytical way how patients and physicians engage with their [the patients'] health care through the mobile app," Dr. Lee said. "And we found out that patients have accepted the app — particularly the functionality that was implemented that allows them to share their exams in a safe, secure way."
The application generates a digital link to a specific exam and expires after a time stipulated by the patient. Each time a patient shares an exam or lab report, the system reports when it was shared, with whom, if the recipient visualized the report or let the link expire and if the recipient is a physician or not.
Dr. Lee and his colleagues analyzed the extent of patient and physician engagement by analyzing data from the period after the application was launched (from 2016 through 2018).
Physicians Less Likely to Engage with Mobile App
They determined that during that time more than 88,000 patients downloaded the mobile application and that a total of 253,781 outpatient exams were shared from the app (16,071 in 2016, 44,000 in 2017, and 156,163 in 2018).
"The increasing number of shared links reveals that a mobile app is appealing for the patient who appears to be interested in engaging with his or her own health care," Dr. Lee said.
However, of all the shared links, only 40,683 (17%) were accepted by the recipient.
In fact, according to Dr. Lee, while physicians initially appeared to attempt to engage with the functionality as patients began sharing exams with them, the extent to which physicians accessed those exams dropped each year.
"We're still trying to find out what the reasons are for this," Dr. Lee said. One possibility could be that since patients get prompted when a physician accesses their exams or reports, physicians feel pressured to respond to the patient as quickly as possible. "That may cause physicians to try to avoid dealing with this kind of tool," he suggested.
Dr. Lee also noted that there is some evidence that, at least in Brazil, some physicians have yet to fully embrace the transition to a digital world.
For example, when questioned about the app's performance many physicians complained about the fact that they couldn't print exam or lab results.
"This was a problem because the physicians were actually asking for the printed exams," said Dr. Lee, suggesting that while physicians have more access to better technology, it doesn't mean they are engaging with these tools.
"We think the reason is that they believe it doesn't markedly improve their workflow," Dr. Lee said.
The fact that fewer physicians are engaging with the tool means that further analysis is needed regarding the disparity between high patient engagement and low physician acceptance of that digital health tool, Dr. Lee concluded. At the same time, he suggested that the ability to analyze real world data with a mobile application should make the tool more relevant, add value to the user's experience and encourage physicians to engage with it.
Are digital tools effective in keeping patients more engaged with their health care? #RSNA19

— RSNA (@RSNA) December 2, 2019