Findings from a retrospective study performed at the University Hospital of Zurich (UHZ) show that 68Ga-PSMA-11 PET (PSMA PET) used in the staging setting for intermediate and high-risk prostate cancer patients could translate to a difference in patient management and may ultimately lead to better outcomes for patients with the disease.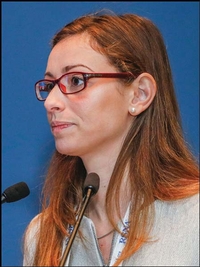 "PSMA PET has been increasingly used over the past decade in Europe to image prostate cancer and is often considered a game changer in detection of recurrent prostate cancer because of its high sensitivity and specificity," according to Daniela A. Ferraro, MD, nuclear medicine research fellow at UHZ.
Dr. Ferraro and her team sought to understand whether the method could be useful during disease staging while also assessing the potential impact of PSMA PET in clinicians' decisions regarding therapeutic approach.
Researchers examined results from 116 patients who underwent staging using PSMA PET/CT or PSMA PET/MRI during a two-year period from 2016 to 2018.
Using a simulated, multidisciplinary tumor board, they looked at clinical and conventional imaging to define treatment options prior to PSMA PET use. They reviewed the cases again, adding information gathered from PSMA PET imaging results to determine treatment.
Compared to clinical staging and conventional imaging, PSMA PET provided new information for 36% of patients with a change in management for 27% of them.
A new therapy modality was selected for 15 patients, while in 17 others, the findings resulted in an adjustment to therapy such as a modification of the radiotherapeutic field.
"We expected PSMA PET would have an impact in disease management but were particularly surprised that it resulted in a management change for more than one fourth of the patients," she said.
In one case, Dr. Ferraro noted a patient with suspected bone metastasis on both CT and bone scan, which would have resulted in treatment with radiotherapy and androgen deprivation therapy. However, upon further assessment using PSMA PET, the patient was positive for cancer in the primary tumor but negative in the suspected metastasis leading to a biopsy that confirmed a degenerative sclerotic benign change.
"The patient was eligible for curative therapy and underwent surgery only. One year later he did not need any additional treatment and is still free from disease," Dr. Ferraro said.
While Dr. Ferraro emphasized the potential for PSMA PET to change disease management, she noted that further investigation will be necessary to determine whether tailor-made therapies using PSMA PET will improve patient outcomes.
She and her team are currently working on a study to determine what benefit the new modality will bring for the patient.
"A change in disease management is only the first step that can lead to a potential better outcome. To find out the real benefit of the method, we need to know how these patients do over time after having their treatment defined using the information from PSMA PET," Dr. Ferraro said.