According to preliminary results of a six-year nationwide study of nearly 1 million U.S. patients, CT colonography for initial colon cancer screening is significantly underutilized compared to the traditional colonoscopy.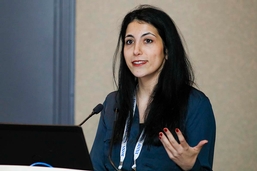 "Between 2010 and 2016, CT colonography was used in less than 1% of first-time colon cancer screenings performed," said Jina Pakpoor, MD, a radiology resident at the Hospital of the University of Pennsylvania, who presented the study on Monday.
Dr. Pakpoor and a team of researchers used a national commercial claims database to identify 895,956 commercially insured patients between the ages of 50 and 55 who underwent a first-time colon cancer screening between 2010 and 2016. The average age of patients was 52 and 55.4% of the patients were female.
Statistical analysis of the data showed that over the study time period, the number of patients utilizing the four screening modalities were:
colonoscopy, 616,789 or 68%
fecal testing, 277,147 or 31%
sigmoidoscopy, 2,166 or .24%
CT colonography, 678 or .08%
The proportion of initial screenings performed by colonoscopy increased from 65% in 2010 to 71% in 2016, while fecal testing decreased slightly over the same period. The use of CT colonography remained flat.
"Our study showed a marked geographic variation in screening uptake between U.S. regions," Dr. Pakpoor said.
In 12 states in the Northeast and Great Plains, colonoscopy was the initial screening modality of choice for more than 90% of patients. In the lower portion of the country, from southern California and Arizona through Texas to Florida, there was a lower uptake of colonoscopy compared to fecal testing. The lowest proportion of colonoscopies were performed in Hawaii and North Dakota (22% and 51% respectively).
Dr. Pakpoor said underlying reasons for the geographic variations may include discrepancies in access, socioeconomic status and cultural preferences.
"There may be specific patients who, whether for medical or cultural reasons, may particularly benefit from utilization of CT colonography," she said.
She said two issues are key to increasing the utilization of CT colonography: raising awareness of the screening option and obtaining wider insurance coverage for the procedure.
"Nationally, we know only 16% of Americans are aware of CT colonography as a colon cancer screening option," she said.
Over the past decade, the procedure has also faced challenges acquiring Medicare, Medicaid and extensive commercial insurance coverage. However, as of 2018, 37 states now mandate that private payers to provide coverage for CT colonography for colon cancer screening. The most recent guidelines from the U.S. Preventative Services Task Force also suggest eligible patients make an informed choice from among the four colon cancer screening options, rather than recommending a specific modality.
"As for Medicare coverage of CT colonography, if there is a time for it, it's probably now," she said.