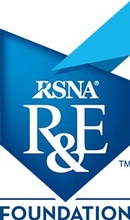 The RSNA R&E Foundation is participating in #GivingTuesday, a global generosity movement unleashing the power of people and organizations to transform their communities and the world.
The movement began in 2012 to encourage people to do good. Over the past seven years, this idea has grown into a global movement that inspires hundreds of people to give back to their communities.
Celebrate #GivingTuesday and seed the future of radiology by making a donation to the Foundation today at RSNA.org/Donate or by visiting the R&E Foundation booth in the Connections Center.
Your donation funds grants that empower investigators to discover new advances in medical imaging and support the development of innovative teaching methods.
In 2019, the Foundation funded a record $5 million dollars in education and research grants.
Show your support of the R&E Foundation by letting our artists create a caricature of you. Artists will be next to the RSNA Shop in the Connections Center on Tuesday from 9 a.m. to 5 p.m. The $25 fee for each caricature will benefit the Foundation.