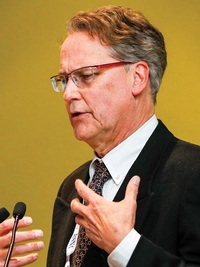 A panel of experts gathered Monday to discuss the recent outbreak of e-cigarette/vaping-associated lung injuries (EVALI) in the U.S. and the role of radiology in diagnosing, treating and researching the rapidly evolving disease.
During a crowded RSNA 2019 Special Interest Session, experts discussed the scope of the problem and how radiologists can recognize the mysterious lung illness that continues to escalate — particularly among young people. Experts showed scans of patients diagnosed with EVALI, which can present in several different patterns in the lungs.
"It's really tragic that young people are faced with this issue when they thought they were doing something that was safer than cigarettes," said co-moderator Mark Schiebler, MD, professor of cardiothoracic radiology at University of Wisconsin School of Medicine and Public Health, Madison. The session was co-moderated by Jeffrey Klein, MD, RSNA Board Liaison for Publications and Communications and the A. Bradley Soule and John P. Tampas Green and Gold Professor of Radiology at the University of Vermont College of Medicine in Burlington.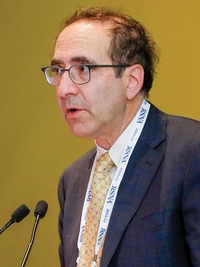 Vaping products were originally marketed as a safe way for people to quit smoking, but quickly became popular with young people who were not cigarette smokers. E-cigarettes contain nicotine, which is addictive for users, but can also be mixed with flavoring or marijuana.
According to the New England Journal of Medicine, in 2019, 25% of high school seniors said they have vaped in the last 30 days, with up to 40% of students that age saying they have ever experimented with e-cigarettes. Those numbers are up from 11% of high school seniors trying e-cigarettes in the last 30 days and 25% ever using them in 2017.
As of late November, the Centers for Disease Control (CDC) has reported 2,290 cases of EVALI and 47 deaths. "I'm hopeful that we are living through the peak of this and that the number of cases will go down as people become more aware of the problem," Dr. Schiebler said.
Studying a public health crisis that is evolving day by day in the news can be difficult, Dr. Schiebler acknowledged. "There's certainly a lot we don't know yet," he said. "We are in the early phases of understanding what is causing this problem. A lot more needs to be done, but people are getting sick every day."
Recently the CDC identified vitamin E acetate as a chemical of concern after testing bronchoalveolar lavage (BAL) fluid samples from the lungs of 29 patients with EVALI from 10 states. Vitamin E acetate is often used as an additive or thickening agent in THC-containing vaping products, according to the CDC. The CDC has not ruled out other possible chemicals of concern and is encouraging people not to use vaping products.
Alessandra Caporale, PhD, postdoctoral fellow in the radiology department at the University of Pennsylvania's Perelman School of Medicine, presented her recent Radiology research, "Acute Effects of Electronic Cigarette Aerosol Inhalation on Vascular Function Detected at Quantitative MRI."
Her research shows that it may be the vaporization process that is dangerous. Dr. Caporale described how researchers at the University of Pennsylvania performed MRI exams on 31 healthy, non-smoking adults before and after using a nicotine free e-cigarette. Patients experienced reduced blood flow and reduced endothelial function from just one vaping experience.
Radiologists Can Help Recognize, Diagnose EVALI
Brandon Larsen, MD, PhD, a pathologist at Mayo Clinic, Rochester, MN, showed how EVALI can present in the lungs, sometimes in a pneumonia-like form, other times like a toxic inhalation injury, or something else entirely – but often with some opacities in the lungs. Patients often present with coughing, shortness of breath, fatigue, chest pain, nausea, vomiting and diarrhea.
EVALI is a diagnosis that can only be made once other causes are ruled out, said Seth Kligerman, MD, chief of cardiothoracic imaging and associate professor of radiology at the University of California at San Diego.
"If you start to see these patterns in a patient, ask if they have a history of using e-cigarettes," Dr. Kligerman said. "Some people still may not be aware that this is happening so it is important for the radiologist to speak up."
Travis Henry, MD, associate professor of clinical radiology at the University of California, San Francisco, warned that physicians will need to stay on top of evolving research on EVALI as understanding continues to develop.
"This is so new that we still don't know the long-term effects. I suspect we are going to see chronic effects down the road, but we just don't know yet," he said.
View a video interview with Drs. Klein, Schiebler and Kligerman at RSNA.org/Bulletin.