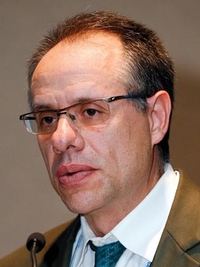 Although retrievable superior vena cava (SVC) filters have been placed in patients for more than 30 years, controversy still surrounds use of the filters. After conducting a retrospective review of clinical outcomes, one RSNA researcher said he will no longer recommend the use of SVC filters at his institution.
Jorge Lopera, MD, a radiologist at the University of Texas (UT) Health in San Antonio, presented his research, "Single-Center 10-Year Clinical Experience with SVC Filters in the Era of Retrievable Filters," on Tuesday.
"It's not clear if the risk of dying from pulmonary embolism from upper extremity deep venous thrombosis (DVT) justifies the use of SVC filters given the potential serious complications," Dr. Lopera said. Complications or poor outcomes can include filter misplacement, major vessel perforation, pericardial tamponade, lack of follow up or death due to other causes in patients who are already very ill, he said.
Because there has been more research published on inferior vena cava filters (IVC) than SVC, Dr. Lopera was motivated to research outcomes at his institution.
Dr. Lopera and his team conducted a retrospective review of the images and electronic medical records of patients with SVC filters placed between 2008 and 2018. Of the 50 patients studied, ranging in age from 17 to 89 years old, 21 had major neurological conditions such as stroke, 16 had advanced cancers and 13 experienced other severe life-threatening co-morbidities.
Patient demographics, indications for filter placement, type of filter placed and clinical evolution were recorded. Complications during placement and retrieval were also determined. Contrast-enhanced CT images after the procedure were reviewed, if available, to study filter migration and leg penetration.
The review found that nine of the filters were mispositioned and 11 were significantly tilted, both of which can lead to complications. Ten of the filters showed leg penetration through the SVC wall.
SVC Filters Meant to be Temporary
SVC filters are typically a temporary solution and physicians strive to remove them from the patient relatively soon after placement, but according to Dr. Lopera's review, only 12, or 24%, of the 50 patients at his institution had attempted filter removal — 11 successfully and one technical failure.
Another complicating factor, Dr. Lopera said, is the severe condition of many patients who receive SVC filters. Of the 50 patients reviewed, eight died within 30 days of the procedure. In total, 29 patients out of 50 either died or were in terminal condition and not expected to survive more than three months.
Despite having one of the largest clinical experiences with the use of SVC retrievable filters, Dr. Lopera said the study has limitations and that further research is necessary. Deciding whether to use SVC filters is something each institution will need to examine individually, Dr. Lopera said. But for UT Health, the possible benefits do not outweigh the risks.
"In our experience, given the high mortality rate in patients with upper extremity DVT due to their underlying comorbidities, the reported low mortality of pulmonary embolism in these patients, the low retrieval rates and the potential of very serious complications, we do not recommend placement of retrievable SVC filters," Dr. Lopera said.