Physician wellness is critical to a healthy workforce and both individuals and leadership need to make meaningful changes to mitigate burnout and improve quality and safety in the workplace.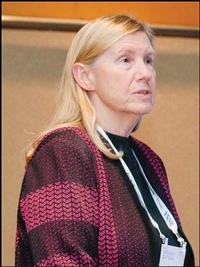 "Individual physician wellness/burnout is a complex, multifactorial serious issue. It begins with leadership embracing the need for a healthy workforce. It is a shared responsibility between the individual and their leadership to help treat this epidemic," said Claire Bender, MD, MPH, in a Tuesday educational session.
Though not a recognized disease, workplace burnout is a prolonged state of emotional, physical and mental exhaustion caused by excessive and prolonged stress. Dr. Bender, a professor of radiology at Mayo Clinic, Rochester, MN, noted that despite the realities of burnout, there are pockets of radiology professionals who do not recognize it as a problem.
After opening with an acknowledgement of myths associated with organizational strategies for reducing burnout, such as increased cost and conflicts with organizational objectives, Dr. Bender detailed a series of effective approaches that were echoed by her co-presenters.
According to Dr. Bender, organizations must acknowledge and assess the burnout problem and harness the power of leadership to effect real change. She focused on developing "work units," a restructured approach to scheduling that can break up long days in the reading room.
She also emphasized cultivating a sense of community at work through formal and informal approaches to peer interaction. "Concentrated time of networking and re-networking is necessary and can be achieved in a physician lounge or through other engagement groups," she said.
Dr. Bender said a responsibility shared by both organizations and individuals is better work/life integration. "Work/life balance is of prime importance and leadership really needs to wrap their arms around it, to help individuals give time for self-care and create a divide between home and work."
Shifting to individual responsibility, Dr. Bender admitted radiologists are slow to help themselves and implored her colleagues to find joy and return it to the workplace. She recommended reducing isolationism and refusing to allow administrative tasks to add stress.
She cited lack of time and the fear or shame associated with being unable to handle the workload as significant roadblocks individuals may face when seeking to alleviate burnout.
The Science of Well-Being
The Mayo Clinic developed a self-assessment survey tool called the Well-Being Index (WBI) that measures and tracks well-being over time and is a curated toolkit of radiology-specific resources.
The WBI is helping to build real data to support the study of workplace burnout and professional well-being. "We have been talking in soft science, but we need the data and that can be gathered to understand the value and impact of addressing burnout," Dr. Bender said.
"Physician wellness must be incorporated into the value system of leadership of all health care organizations," she said. "The goal of physician leaders must be a healthy and happy workforce. A healthy health care team provides the best, safest and highest quality of care to our patients. That is what they deserve."