The RSNA annual meeting is, without doubt, the largest, most important gathering of the radiology community in the world. Virtually everyone who has a role to play in the field is here —including those attending their first RSNA annual meeting.
Session Puts Spotlight on Startups
MATTER will moderate RSNA 2019 Startup Showcase Spotlight (CS44) on Wednesday, highlighting just a few of the innovative companies exhibiting in the Startup Showcase. Join us today at 1 p.m. in Room S101AB to hear their stories and learn more about the promising technologies ahead.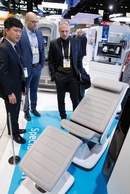 Among those first-timers are entrepreneurs, the founders of startups hoping to introduce themselves to the radiology community with innovations they believe will create the field's future.
To help those startup companies connect with decision-makers and potential partners, RSNA presents its Startup Showcase — a dedicated area in South Hall A, Booth 2468 — in which all the exhibitors are emerging companies. This year the Showcase will include more than 20 early-stage ventures offering new products across many categories including innovative medical imaging tools, software applications and artificial intelligence solutions.
Yahiel Polatov, executive vice president at Israel-based Innoging, agrees RSNA's annual meeting is the best place to introduce his company's new ultrasound image analysis product to radiology.
"This is the most important exhibition in the world," Polatov said. "It allows us to be approached by potential partners, investors and collaborators."
This year RSNA partnered with MATTER, a Chicago-based health care technology incubator and innovation hub with about 230 startups in its current portfolio, to help the participating companies make important connections.
The Showcase will also help those attendees hoping to connect with startups make the best use of their time. The RSNA 2019 Startup Showcase Spotlight, a 90-minute event during which these emerging companies can tell their stories to the radiology community, will be held on Wednesday afternoon.
"We'll be there to help the startups make the connections they need," said MATTER CEO Steve Collens.
Collens pointed out that industry events like RSNA 2019 play a larger role than ever in developing new innovations.
In the wake of the 2008 economic downturn, many large companies across the board have cut back drastically on their internal research and development initiatives, counting on emerging companies to develop innovations for them.
"There is more and more entrepreneurial activity in the health care space and, from the large company's point of view, startups are now their R&D labs," Collens said.
Entrepreneurs are able to move faster, be more capital-efficient and are less risk-averse than the companies they hope to develop partnerships with.
At the same time, they need to attract the attention of big companies that can help them understand the right problems to focus on and the best way to prepare their products for the marketplace.
While he is new to exhibiting, Fabian Kording, MD, has presented several times in scientific sessions at the RSNA annual meeting. As presenters, he and his colleagues at Universite Hamburg, Germany, could gauge interest and gather valuable feedback on the imaging tools they have developed to diagnose congenital heart disease before birth.
"The only question we would ever get was, 'When can we buy your product?'" Dr. Kording said.
Two years ago the team founded NorthH Medical. They will be back at RSNA 2019 as exhibitors, and those curious attendees from previous meetings will get their chance to place their orders.
This is where exhibiting at the RSNA Startup Showcase brings an advantage. With more than 50,000 meeting attendees, the annual meeting provides myriad opportunities to gauge the market and talk with radiologists about the problems they face.
For example, Showcase exhibitor Ram Srinivasan, MD, PhD, launched Orbit CME five years ago to help radiologists deal with their continuing medicine requirements, but this is his first visit to the RSNA annual meeting.
"Our mission is to serve radiology, and the RSNA annual meeting brings together a community that values innovation," Dr. Srinivasan said. "Innovation is what we're about."
No matter what, Collens said, just being at RSNA puts emerging companies ahead of their competition.
"It's never too early to connect with the established parts of the industry that are going to be relevant to your business," he said. "The economics of health care are particularly complex and non-intuitive. It's important to start talking to people right away."