RSNA's 105th Scientific Assembly and Annual Meeting is dedicated to the memory of Dr. William R. Eyler, who died Dec. 5, 2018, after celebrating his 100th birthday earlier in the year.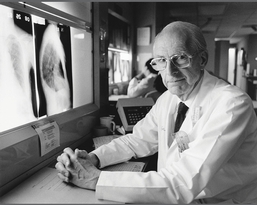 Dr. Eyler was instrumental in establishing Radiology as a preeminent scientific journal. He served as assistant editor from 1962 to 1966, then as editor until 1985. During his tenure, Dr. Eyler improved the efficiency of the editorial operation and the quality of the journal, doubling the circulation.
As editor, Dr. Eyler developed the RSNA Index to Imaging Literature, providing radiologists with a comprehensive library of studies and images long before the internet provided ready access. RSNA recognized this accomplishment in 2004 with a resolution honoring him at the RSNA annual meeting.
In 1998, RSNA commemorated his contributions by establishing the William R. Eyler Editorial Fellowship, which provides an opportunity for radiologists to work with RSNA journal editors and publications staff. Dr. Eyler was a strong advocate for young radiologists, giving his time and talent to prepare future generations of residents during his 65 years of teaching.
An esteemed radiologist, Dr. Eyler served as chair of the Department of Radiology at Henry Ford Hospital for nearly three decades. Before joining Henry Ford he was a faculty member at the University of Illinois and Massachusetts General Hospital.
Dr. Eyler earned his medical degree at Harvard Medical School. He served during WWII in the Army Medical Corps with the 115th General Hospital in England and France and in occupied Germany after the war. When he returned home, he completed his residency at Massachusetts General Hospital.
Dr. Eyler received the RSNA Gold Medal in 1976. He also received gold medals from the American Roentgen Ray Society and the American College of Radiology.