More than 700 leading manufacturers, suppliers and developers of medical information and technology help make the RSNA Technical Exhibits Halls the ideal setting to engage with industry experts and discover the latest medical imaging products and services. Shop and compare equipment supplies, devices and software throughout the North and South buildings and AI Showcase.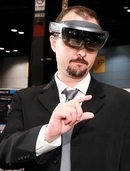 AI Showcase
Sponsored by Zebra Medical Vision
The newly expanded AI Showcase, located in the North Building, Level 2, features more than 130 companies offering attendees the opportunity to experience AI software and product demonstrations, connect with industry leaders and see the possibilities of AI firsthand. The AI Showcase also features an AI Theater and a Hands-on Workshop led by exhibitors. For more information on programming in the AI Showcase, go to Meeting.RSNA.org.
RSNA AI Deep Learning Lab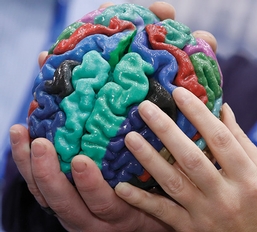 Now integrated into the AI Showcase, the RSNA AI Deep Learning (DL) Lab features four unique sessions focusing on using open-source tools for completing DL tasks. Attendees are invited to bring their own devices to begin completing actual tasks in DL. Sessions are repeated Sunday through Thursday.
3D Printing & Advanced Visualization Showcase
The 3D Printing & Advanced Visualization Showcase has been expanded and relocated to the North Hall, Level 3. The RSNA 3D Special Interest Group (SIG) will present the latest research and technology in 3D printing for medical applications from Sunday to Wednesday from 2 to 3 p.m. Short exhibitor presentations to be held throughout the week are available at Meeting.RSNA.org.

Innovation Theater
Located in the South Building, the Innovation Theater features 20-minute exhibitor presentations of new products and advances in medical imaging. Presentations are held from 10:30 a.m. to noon, and from 2 to 4 p.m. Sunday through Wednesday.
IR Zone, South Building
Recognizing the continued growth of interventional radiology (IR), the IR Zone is dedicated to companies offering products and equipment unique to IR.

Radiation Safety Zone
Dedicated to critical products to protect you and your patients, the Radiation Safety Zone, in the North Building, includes companies offering a variety of products and services designed to create a culture of radiation safety.
First-Time Exhibitor Pavilion
First-time exhibitors demonstrating new products and services will be featured in a showcase area inside the South Building. Other first-time exhibitors located throughout the exhibits halls will be identified with a First-Time Exhibitor logo.
Startup Showcase
Visit the Startup Showcase in the South Building to explore the latest in medical imaging and connect with emerging companies positioned to bring new products and services to market. RSNA has partnered with MATTER, a health care startup incubator, in developing the showcase. The RSNA Startup Showcase Spotlight is featured in the South Building from 1 - 2:30 p.m. Wednesday
Publishers Row
Shop for educational publications and professional services addressing virtually every aspect of medical imaging.
Visit the RSNA Publications Booth 1119 (South Building) featuring RSNA journal-related products and services, including the full suite of Radiology journals. Meet the RSNA journal editors (see schedule below), or attend Publishing in RSNA Journals: Tips from the Editors on Sunday, Dec. 1, at 2 p.m.
Editor Meet and Greets
Gary D. Luker, MD, Editor, Radiology: Imaging Cancer, Monday, 10:30 a.m.
Mariam Moshiri, MD, Editor, RSNA Case Collection, Monday, 1 p.m.
Charles E. Kahn, MD, Editor, Radiology: Artificial Intelligence, Monday, 2 p.m.
Suhny Abbara, MD, Editor, Radiology: Cardiothoracic Imaging, Tuesday, 11 a.m.
Jeffrey Klein, MD, Editor, RadioGraphics, Wednesday, 9 a.m.
David Bluemke, MD, PhD, Editor, Radiology, Wednesday, 1 p.m.
Recruiters Row: South Building, Level 3
The annual meeting is the perfect opportunity to meet with employers recruiting at RSNA. Meet with employers recruiting during RSNA 2019 and use the lounge in this area for interviews or one-on-one meetings.
Vendor Workshops
Vendors provide hands-on tutorials of commercial software systems in a classroom setting. Refer to Meeting.RSNA.org for a complete list of Vendor Workshops.
Bistro RSNA
Technical Exhibits, North Hall B & South Hall A
With an extensive gourmet menu and ample seating, Bistro RSNA is a convenient option to sit down to a comfortable lunch and network with colleagues. For more information, visit bistrotickets.com/rsna or stop by the Bistro Desk, Grand Concourse, Level 3.
Lunch
Sunday, Dec. 1, to Wednesday, Dec. 4
11 a.m. to 2:30 p.m.
Brunch
Thursday, Dec. 5
10:30 a.m. to 1:30 p.m.

Café RSNA
Technical Exhibits, South Building, Level 3
This affordable food court style café features a wide variety of cuisine, casual dining, open seating and a prix-fixe menu.
Sunday, Dec. 1, to Wednesday, Dec. 4
11 a.m. to 2:30 p.m.

RSNA AI Café
The RSNA AI Café, located in the AI Showcase, includes food carts offering sandwiches and tacos.
Exhibit Hours
Halls A & B, South and North Buildings and AI Showcase
Sunday–Wednesday 10:00 a.m.–5:00 p.m.
Thursday 10:00 a.m.–2:00 p.m.
Technical Exhibits Focus
Check out the Technical Exhibits Focus featuring a floor plan and daily industry presentations in the Daily Bulletin, Sunday through Wednesday.