Large collection of public of artwork showcases Chicago history and culture
If you've attended an RSNA annual meeting, you're probably familiar with the massive square footage, long escalators and subterranean bus gates at McCormick Place. But you might not know that McCormick Place houses a superlative collection of public art. There are more than 100 pieces on display, mostly concentrated in the South and West buildings.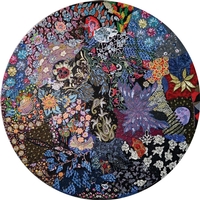 The collection began in the South Building in 1997, with major works from both Chicago-based and international artists, before the focus was refined with the opening of the West Building in 2007, according to McCormick Place officials.
"For the South Building, we procured art from all over the United States, but with the continued expansion, we've returned to our Chicago roots," said Marilynn Rubio, senior manager of Community Engagement and Special Events at the Metropolitan Pier and Exposition Authority (MPEA), owner and operator of McCormick Place. "It's now one of largest public art collections in the state."
The collection offers a fascinating look at how different artists interpret Chicago, according to Nicol Chervenak, MPEA's Director of Planning and Program Management.
"There's a little bit of everything in the collection," she said. "You'll see photography, painting and sculpture in both representational and abstract form. It's like walking around a museum."
Artists Capture the Essence of Chicago
For the West Building, planners worked closely with Chicago-area artists to fit pieces into the architecture of the space. Dan Ramirez's suite of eight paintings, for instance, discreetly occupies niches along the Central Concourse. Ramirez sprayed and brushed acrylic polymers over 13-foot-tall aluminum panels to create the series, which was inspired by writer Nelson Algren's 1951 prose poem Chicago: City on the Make.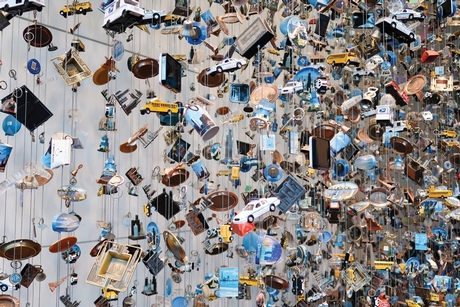 A contrast to the rectilinearity of Ramirez's series, Chicago-based artist Nick Cave's Universe (2007) presents an explosion of flower petals across an eight-foot-diameter disc. A closer look at the piece reveals Cave's skill at integrating scraps of material like sequined and beaded fabric into the work, an aptitude he developed as a child repairing hand-me-down clothes in his large family in Missouri.
Patrick Micelli's installation Made in China (2007) on Level 1, also requires a closer look. Micelli created the work by hanging thousands of pieces of Illinois memorabilia, including toy cars, bottle openers and key chains, from steel cables.
The mural A Twilight Dream by Chicago native Dzine stretches 100 feet along a wall near the main walkway. Dzine, who got his start as a graffiti artist before turning to abstract painting, drew inspiration from the 1893 Columbian Exposition, also known as the Chicago World's Fair. Circular forms allude to the Ferris wheel unveiled at the fair, an event that helped propel Chicago into the ranks of the world's great cities.
Other inventive visions of the city include Sabrina Raaf's Curtain Wall (2007), a soaring, twisted abstraction of an architectural feature prominent in many of Chicago's great modern skyscrapers.
The oil painting Chicago (2007) from William Conger, one of abstract art's towering figures, reimagines the city as a series of wheels and hubs, with lines and circles signifying highways, waterways and railroads.
Collection Features Artists Outside Illinois
The South Building maintains an emphasis on local artists while making space for contributions from artists outside Illinois. In renowned glass sculptor Dale Chihuly's McCormick Place Chandelier (1997), located on Level 4, tendrils of glass cascade out of a pile of ruby-red globes.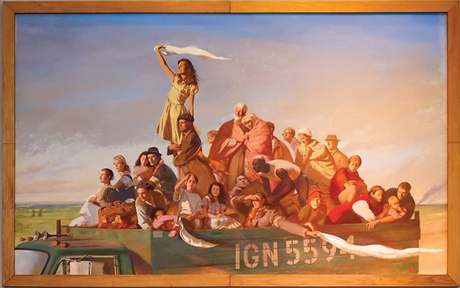 Dream Catcher (1997), a delicate monofilament sculpture from the late Canadian artist Micheline Beauchemin, serves as a kind of ephemeral companion piece to Chihuly's chandelier.
Other South Building highlights include Preston Jackson's Bronzeville, a Moment in Metal (2007), a stainless steel and cast bronze sculpture named after the historically African American neighborhood adjacent to McCormick Place. The sculpture references the Great Migration, when African Americans left the south for Chicago and other northern cities.
Migration is also a theme in Bo Bartlett's Homeland (1994), an oil painting that depicts dispossessed people returning to their home. Homeland displays Barlett's characteristic juxtaposition of realistic figures in surreal settings.
In addition to the art in the West and South Buildings, McCormick Place hosts a rotating collection of outdoor sculptures. A curated collection of pieces from Chicago-based artists opened in 2017.
"We're lucky to have such a nice collection of art that's free for folks to take a look at," Rubio said.
For a complete guide to the art collection visit bit.ly/mccormick-art.