Located in Lakeside Center East, Level 3, the RSNA Connections Center is your central hub to learn about RSNA services, get your questions answered or enjoy a break from meeting sessions. Attendees can access: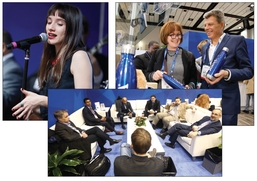 Digital Support
RSNA technology experts can provide one-on-one digital help with Meeting Central, the meeting app, Virtual Meeting, Credit Eval, My Agenda and Diagnosis Live™. They will also help you with any connectivity issues and answer questions about iOS and Android functionality.
Information Desk
Visit RSNA staff at the Information Desk for answers to your questions about RSNA 2019.
Membership & Resources
Staff will be available to provide information about RSNA membership benefits and services including:
Career Connect
Image Wisely®
Informatics products
International programs
Journal subscriptions
Membership renewals and payments
Online Education
Radiology Cares®: The Art of Patient-Centered Practice
RadiologyInfo.org®
Virtual Meeting
Ribbon Pick Up
The self-serve ribbon wall is located in the Membership & Resources area. If you don't see one you are looking for, please ask for assistance.
R&E Donor Suite
Learn about the R&E Foundation and how you can seed the future of radiology with a gift. Read about current grant and award recipients as well as individual, private practice and corporate donors. Attendees with a donor ribbon and those who contribute at least $300 onsite enjoy exclusive access to the Donor Suite, which features computers, a coat room, comfortable furniture and light refreshments.
Caricatures offered on #GivingTuesday
Help change the face of radiology by letting our artists create a caricature of yours! Show your support for the R&E Foundation and receive a fun RSNA 2019 souvenir. Available Tuesday, Dec. 3, 9 a.m. – 5 p.m., next to the RSNA Shop. $25 per caricature with all proceeds benefiting the R&E Foundation.
RSNA Photo Booth
Choose from a variety of custom backgrounds to create your own fun photo. RSNA will share your photo on our #WeAreRadiology wall in the Membership & Resources area. A photographer will also be on hand to take professional portraits, which will be sent via email. Photos are complimentary.
Fun Photos:
Sunday, Tuesday and Thursday, 9 a.m. – 5 p.m.
Monday and Wednesday, 12:30 – 5 p.m.
Professional Portraits:
Monday and Wednesday. 9 a.m. – Noon
The RSNA Shop
RSNA Shop is your go-to resource for RSNA branded merchandise and apparel.Choose from gifts including holiday ornaments, hats, keychains, golf balls, fleece tops, and a limited edition water bottle to support the R&E Foundation
Discovery Theater Features Entertainment and Education
The Discovery Theater hosts informative, entertaining programming all week. Back by popular demand is the Diagnosis Live™ Resident Competition with residency programs competing for the ultimate bragging rights. Along with a diverse spectrum of theater performances, presentations include Navigating RSNA presented in multiple languages, Navigating Chicago for Residents, and information about new RSNA programs. View the full schedule at Meeting.RSNA.org.
Discovery Theater Performances Daily at Noon:
Sunday
Broadway Classics: Jordan von Haslow & Quintet
Monday
Acoustic Artist: Melanie Devaney
Tuesday
Ukulele Barrett Band
Wednesday
Martin Metzger Flamenco Quartet: Noon – 1 p.m.
Acrobat: Gretchen in Motion 1 – 2 p.m.
Thursday
Acoustic Artist: Cary Kanno