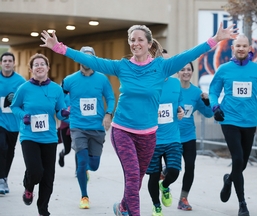 Join your colleagues and walk, run or jog during the 2019 RSNA 5K Fun Run, kicking off Tuesday, Dec. 3, at 6:30 a.m., Arvey Field, South Grant Park.
The annual Fun Run benefits the R&E Foundation through the fully tax-deductible $50 registration donation. Register at the Fun Run desk (Grand Concourse, level 2.5 of McCormick Place) Sunday and Monday between 7:30 a.m. and 5 p.m. Pre-registered runners should visit the desk to pick up their bibs and T-shirts.
Since 2012, participants have raised more than $206,000 to fund R&E grants. This year's Fun Run is sponsored by Konica Minolta Healthcare.