It is my pleasure to welcome you to RSNA 2019, a place where we can gather and "See Possibilities Together."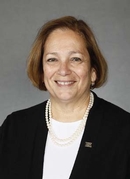 This year's program includes the innovative science and quality education you expect from RSNA. The Board and dedicated volunteers developed a program that will leave you renewed and inspired to improve patient care. Special Interest Sessions on Monday will delve into diverse topics including new MR techniques and the role of neuroimaging in the diagnosis and treatment of depression. Our colleagues from India and Egypt developed the Country Presents series, which celebrates each country's contributions to our field.
Don't miss the plenary session speakers whose forward thinking presentations will inspire you to see possibilities in every aspect of health care, from strengthening commitment to our patients to collaborating across disciplines to solve today's most pressing medical problems.
The popular Fast 5 Session on Tuesday afternoon features five speakers taking five minutes each to present creative ideas and emerging possibilities.
Recognizing a need to access the program beyond the meeting in Chicago, RSNA continues to expand the Virtual Meeting. With more than 400 courses available virtually, you can access more content than ever through April 2020.
A highlight of every annual meeting, the RSNA Technical Exhibits provide a unique setting for networking while discovering the latest products and services. The AI Showcase and Theater — in an expanded location — and the 3D Printing and Advanced Visualization Showcase and Theater highlight the latest technological advances. Also new this year are the Innovation Theater, where you can be the first to hear about new products and emerging technologies, and the Radiology Safety Zone, featuring products designed to protect you and your patients.
Unwind in the new Wellness Lounge, featuring yoga and a quiet space to refresh. Connect with colleagues over lunch at the popular Bistro RSNA or the new Café RSNA in the Technical Exhibit halls.
Visit the Connections Center to learn more about RSNA, get help with your devices, relax and recharge. The Discovery Theater offers a welcoming environment with presentations and live music.
Throughout the week the Daily Bulletin will keep you informed with meeting highlights and a handy exhibit map.
It is my distinct honor to preside over RSNA 2019 as president. I hope you enjoy an inspired meeting full of possibilities.
Valerie P. Jackson, MD
RSNA President